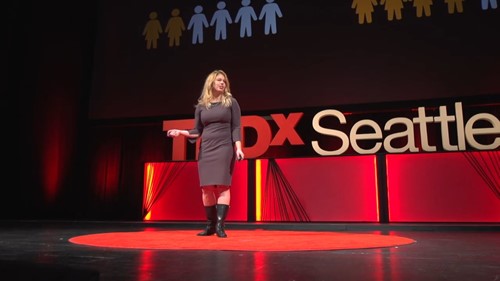 Q: Give us a brief introduction about you and what you do at Metia.
I'm Sara, and I'm the Director of Marketing Research at Metia. I contracted on and off at Metia for three years before transitioning into a full-time role in March 2021.
As the Director of Marketing Research, I get to foster a strong connection between the research we conduct and the content strategy that we provide to clients. I get to be an insights-to-content liaison. Some days this means conducting in-depth interviews or writing content myself. Other days, this means meeting with the Insights team to review the quantitative research they've conducted and pulling out the themes that are going to be meaningful to our clients. I'm committed to making sure the full value of the Insights team's research translates into compelling strategy.
Prior to joining Metia on a full-time basis, I founded the non-profit organization GEN and developed the GEN Certification, the first gold standard for equity and inclusion in U.S. businesses. Now my organization is off the ground and somewhat self-sustaining, but I still do a lot of writing and speaking on inclusive workforce transformation while continuing to certify companies for equity in the workplace. I've also been working on learning the drums over the last year, and now that summer's arrived, I'll be climbing and backpacking in the mountains and training some Capoeira out at Greenlake!
Q: What does your average day look like?
For me, there's not a typical day-to-day, and that's part of why love it here! Every client is different. Every project is different. I can confidently say I've never been bored while working at Metia.
I love that I get to be a conduit for clarity; that holds a lot of meaning for me. I've been campaigning for evidence-backed decision-making since I can remember, so getting to pull nuggets of clarity out from research and turn them into a persuasive narrative that helps people make better decisions? That's kind of my dream job.
Also, I'm always learning. It's rare that a day goes by that I don't feel like a student again at some point.
Q: What is your favorite thing about working at Metia?
It's a place where audacious thinking is welcome and people are truly collaborative, super weird, and want to see each other succeed. Humility, humor, and curiosity seem to run deep with everyone I've worked with here. There's very little ego, a lot of questions, and a healthy amount of shenanigans 😊
In terms of our Seattle location... It. Is. Beautiful. Here. This area is great for nerds who want the views on their commute to be bookended by mountain ranges. I think it's easy to write Seattle off as "just tech," but there's so much more. I have had days that involved bike commuting on a floating bridge across the Sound, meeting with my team to brainstorm the design of a new research project, biking to my book club after work, and finishing the night at a jam session at the Tractor Tavern. The Seattle experience is not just in movies. It's real.
Q: What did your journey to Metia look like?
Like many other Metians, I had a "weird" background that's hard to categorize. I started contracting with Metia while I was starting my own nonprofit organization to launch the first certification for equity and inclusion in the workplace. While those two worlds don't seem related, there was actually a lot of overlap in the kinds of thinking required. In my org and at Metia, we have to call on a systems-thinking mindset, a deep belief in partnership, and the kind of optimism it takes to unknot really complex problems.
You can learn more about life at Metia here.