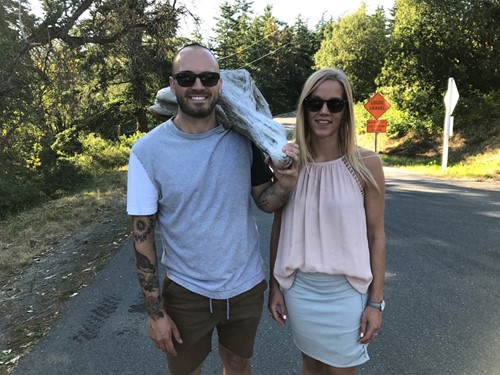 Q: Give us a brief introduction about you and what you do at Metia.
I'm Adam, and I am a Senior Motion Designer at Metia in Seattle. I joined the team in 2014 and have had various responsibilities across the design team in the last seven years. I currently manage all video and motion graphic work that comes through Metia. Not only does that involve the actual execution of design work, but I also advocate for video, working closely with our clients to help them understand the capabilities, benefits, and process of video production.
When I'm not head down in After Effects, I love the outdoors. I enjoy hiking, kayaking, biking, and gardening—I like to do some landscape design in my spare time, too. I also love to explore unfamiliar places, places that can teach me something new, whether that's going on road trips within the U.S. or further afield. And in keeping with the "trying new things" theme, I'm open to trying any new food at least once—if you have any unusual food recommendations, send them my way.
Q: What does your average day look like?
Day-to-day, I focus predominantly on video projects but also work across an assortment of other design elements such as print, web and digital, so there is a nice variety.
The video work keeps me busy—we work across many different formats, including animations, interviews, and campaign videos. Animated videos consist completely of drawn and illustrated elements. Our interviews, which are usually talking heads, involve both conducting the interviews and coordinating footage. Campaign videos involve curating content and voiceovers to deliver a key message to the client's core audience. There's lots of opportunity to get creative in diverse ways.
This diversity allows me to learn new things each day, which I really enjoy, and provides a complexity that requires me to figure out how we can tailor each project to fit client needs—no two projects are really the same. The fast-paced nature of my job is something I love, as well as the variety.
Q: What is your favorite thing about working at Metia?
Everyone I work with I consider both a friend and a co-worker—I love how we are part of a team as well as part of a family. I really appreciate that Metia creates a learning environment where it is OK to make mistakes and grow from them, which is important for development and has helped me along my journey.
I enjoy being based in Seattle, with all the culture and natural elements the area has to offer. I have lived here for 35 years, and although the rain is not my favorite, it's still one of the prettiest places I've ever been. Once the sun comes out, even more so.
Q: How did you get to where you are now?
I was initially referred to Metia through a friend. I joined as a designer, and my journey into video was a little bit unexpected. I had always been interested in video, but I had never considered it as a career choice as I didn't learn about it at school. We had a team member who managed our video work who I sat next to when I joined. A couple of years went by of me asking questions and watching his process. I eventually asked my manager if I could try creating a video. It was a challenge, but I created a short, simple video and was hooked immediately. From there I asked if I could go further down the rabbit hole to take some video production classes and learn Adobe After Effects. The rest is history. There have been a lot of lessons along the way, and I'm still learning to this day.
You can learn more about life at Metia here.