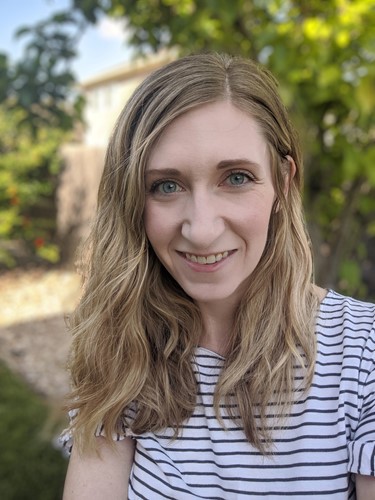 Q: Give us a short introduction about you and what you do at Metia.
I'm Ciara. I've been at Metia for two years working in Austin as part of the Client Services team. My job title is officially Client Services, Senior Supervisor, but is equivalent to what might be more commonly known as an Account Director.
As part of my role, I work across all our core service pillars—Content, Insights, and Demand—and with both strategy and delivery teams to ensure we are getting out great work for our clients.
When I'm not on calls to clients or managing project timelines, I love to bake, so I will often be found in my kitchen making a mess, trying new recipes I've found on Pinterest. Or I'll be at the movie theater—one thing I'll try and do every year is watch all the Oscar-nominated movies before the ceremony. If you're looking for a recommendation, Spotlight has definitely been the most impactful movie I've seen over the last five or so years.
Q: What does your average day look like?
There really is no average day. I spend a lot of my time problem solving, dealing with escalations, and fielding questions from clients, delivery, and strategy teams internally—so each day brings new and interesting challenges.
Relationship management is a big part of my role. I spend lots of time on the phone interacting with clients, and when not working on the relationship side of things, I spend a lot of time reviewing and critically thinking about our outputs to ensure that we're providing the best service possible.
Q: What is your favorite thing about working at Metia?
Client interaction is my favorite part of the job—I love making clients happy. And it might be cliché, but I really love working with our team. They're all incredibly smart and talented, there's no paper pushing or doing anything just for the sake of doing it—everyone is driven and motivated. Most importantly for me, there's a real culture of "the client comes first," so we're all on the same page in wanting to deliver the best work possible.
The location in Austin is great for cool things to do; there's lots of food and live music. We're a small team and try to adopt the local culture into our work, meeting clients over tacos or sharing interesting things to do in the local area. It helps that our office is really close to a lot of our main clients, so there's a common interest.
Q: How did you get to where you are now?
I studied Marketing and Advertising at university and went on to work for USPS as part of its rotation program. I spent time on the retail brand team where I was able to first interact and work with agencies from the client side. I then moved from Washington D.C. to Austin to work in higher education marketing with a focus on student recruitment.
My passion for client services really developed in that time, which is partly how I arrived at Metia. I joined the team originally as an Account Manager, then worked up to Senior Account Manager and then into my current role, which is equivalent to an Account Director. I didn't come from a B2B tech background, but I have really refined my expertise and learned a lot about the space over the last two years.
Before I joined, Metia really appealed to me for two reasons. First, that it was a full-service agency with high-profile clients, so work is really varied. Second, I really liked how Metia is a global agency but keeps its small agency feeling—we have all the resources of a larger agency but in the day-to-day, I don't feel like I'm thousands of miles away from the teams in London or Singapore. These elements of the Metia culture came through during my interviews with the team, and I'm glad to say that they've lived on past those initial conversations.
You can learn more about life at Metia here.