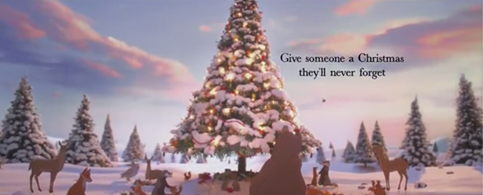 We've reached the time of year which for many advertisers is probably the most important time of year (second most important, if you're in the US, where the SuperBowl might just take poll position): Christmas. The contest for "who can make the best Christmas ad" is already well underway. We've already seen some great entries from M&S featuring Rosie Huntington-Whiteley and her pooch in an "Alice in Wonderland" style set up (check out my colleague Mark's blog on that);Morrisons' all-singing, all-dancing gingerbread man; Boots' generous-yet-sarcastic teenager, and Tesco's trip down memory lane.
Advertisers face a difficult challenge at this time of year. How do they create ads which reflect the spirit of Christmas, while appealing to the adult audience, yet not damaging the magic of Christmas for possible younger viewers? Because of this challenge, this year we're essentially seeing different variations of the same theme; "safe" ads which appeal to the sentimental emotions of nostalgia and giving. While this is great from an ethical standpoint, and a refreshing break from having mounds of expensive products pushed in our faces, viewers will soon tire. Come next year, the sentiment we've seen from the past year or so, and this year's apparent link to Disney, won't sell as well.
What will sell, as brands are really recognising this year, is integration with social media. Traditionally, Christmas advertising was absorbed from the living room, bum on sofa, in front of the TV. But today's audience is much more social than that, so integrating Christmas ads with some form of social media activity is essential. Take M&S, or example, they used a promoted tweet and an Instagram video to introduce Rosie and her pooch. A great teaser as 15 seconds didn't take up too much of our precious time. Cadbury has used Twitter's new inline imagesto give visual teasers, and the use of #unwrapjoy tells me there'll be some form of Twitter campaign coming when the full TV ad is revealed. These campaigns are effective on multiple fronts. First, they create initial buzz, encourage social sharing, and can be seen and discussed by global audiences, not just us here in the UK. Second, using images or 15 second video teasers reaches the high proportion of the target audience who, quite honestly, can't be bothered to sit through a full 120 second commercial. The essence of the message isn't really lost, and it still gets the brand's Christmas campaign on the map.
Unsurprisingly, John Lewis' Christmas ad offering wins on both fronts. Yes, it has the sentimental value of rival Christmas ads and this year's apparent relation to Disney animations, but rather than using a stereotypical teenager or family, it uses animals (which incidentally have been popular in ads this year). Bear and Hare also have their own Twitter handle which has already attracted over 500 followers before the ad has even aired. Before the ad launched people were discussing John Lewis on social media, speculating what their Christmas campaign would entail. The brand has done some great campaigns over the past two years, so it's not surprising this years' campaign was highly anticipated.
But do we really need drastic changes from brands year on year? These contributions are fantastic, but for me Christmas isn't Christmas until the Coca-Cola lorries take to the road. This ad goes as far back as I remember (some 18 years at least), and really, not a lot has changed. The same lorries are driving around, just a slightly different child watching on. Come December 25, if I've not seen that Christmas ad, it simply isn't Christmas.